BLASK ENGINEERING
We're an ISO accredited company, dedicated to delivering excellence at every stage of the design, manufacture and installation to project completion.
Contact us
Services
Blask Engineering are your trusted partners in design, construction and maintenance.
Mechanical
We find the best solution for your individual requirements, truck and tractor repairs, fitting and turning.
Projects
End-to-end product development and engineering expertise. From design, development and project completion.
BLASK Engineering has been undertaking fabrication and maintenance works in metropolitan, rural, and remote areas of Queensland and New South Wales since 1993.
With a vast majority of our work being in the Civil, mining, industrial and agricultural sectors.
With a 29 year operational history BLASK has successfully delivered small through to large and complex projects. The team at BLASK Engineering are very capable and can confidently deliver projects to client specifications whilst managing cost control, logistics and quality assurance. 
Blask Engineering exists to provide unsurpassed quality and project delivery of heavy metal manufactured projects and project management and shutdown services for businesses across Australia.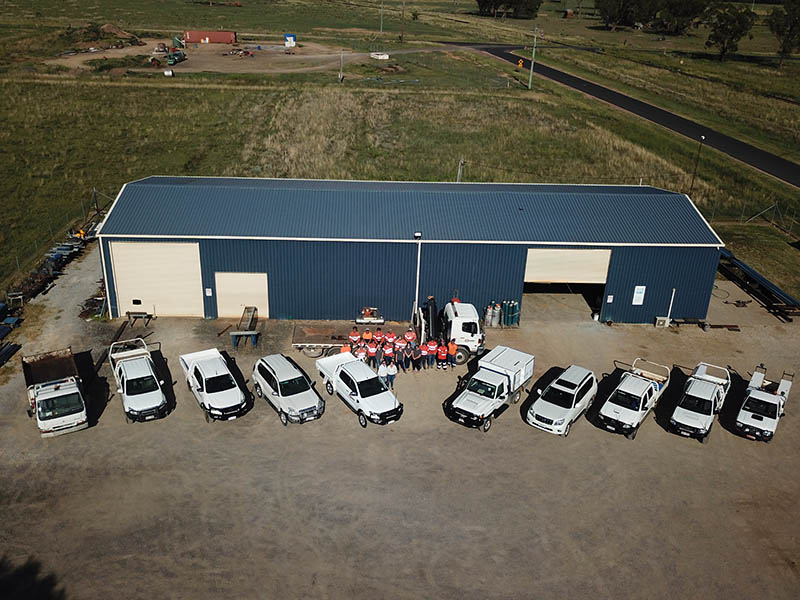 Excellence is our priority
The company's team all have a passion for excellence in plate and structural fabrication, project management and developing client specific products and services creating an ongoing variety of construction scenarios. This ensures that they are up to date with the ever-changing requirements within the Agricultural, Oil, Gas and Mining Industries.
Check out some of our projects.
✓Welding ✓Bending & Folding ✓Cutting & Punching 
✓Custom Engineering ✓Design & Drafting ✓Installation ✓Mechanical
BLASK Engineering understands contract commitments and have implemented management systems to ensure that works are consistently completed on time, within budget and to a high standard.
BLASK Engineering has the equipment and resources to undertake multi-million-dollar projects and has subcontracted to multi-billion-dollar projects.
BLASK Engineering operates from 4 locations at our base in Inglewood Queensland.
Main Fabrication yard 400m2 shed, 36m2 office, 5000m2 yard
Mechanical & Sheetmetal Workshop 300m2 shed, 300m2 yard
Sandblasting and spray-painting yard 2000m2
Laydown areas totalling 7000m2
ADDRESS
P.O Box 182
Office: 6 Aerodrome Road,
Mechanical: 7 Victoria St
Inglewood QLD 4387


BLASK ENGINEERING